Madison Calley
Written by Brandi Currelley
We are honored to feature Berklee City Music Ambassador, Madison Calley, to close out Women's History Month. A DC native, Madison caught the attention of the world through her viral, harp video renditions of R&B and Pop classics, drawing attention from musical greats across genres. On her rise, Calley has performed on both the Grammy and Latin Grammy stages, and has collaborated with artists like Usher and Ariana Grande, in addition to performing in several company projects. Madison has paved a new lane in the modern world by taking her classically trained background in music and bringing forth a new sound and soul using her harp. Among her greatest aspirations lies the desire to bring peace and light to her listeners while creating access and awareness in classical and contemporary music education. Madison leads by example, joining the ranks of incredible Black femme harpists like Alice Coltrane, building a legacy of her own.
Let's start at the beginning, when did you start playing music and what made you choose the harp of all instruments?
It's a great question and I get asked that a lot because it is such a random instrument. When I was about four, my family and I would frequent a restaurant every Sunday after church. There, a harpist would be playing, mostly Disney songs, and as a little girl, I was obsessed with Disney movies. I had the entire collection of everything that was out by that time, and so of course, I just loved this lady. I enjoyed her playing so much that I actually told my mom that I wanted to learn how to play the harp as well. That's where it all really started.
My mom began doing research and ended up finding a harpist from the orchestra in DC who guided her through the process of learning the harp. We were told that since I was only four, I was really too young to start an instrument and it made the most sense for me to first learn how to read. What usually happens with harp is that they also recommend you learn piano first, since music theory is the same for the two instruments. So starting out, I did two years of piano and then finally, got my first children's harp when I was eight.
The harp is such a beautiful and delicate instrument, however, it tends to be under-represented in contemporary music. How have you been able to take your background in classical music and blend it with contemporary so seamlessly?
It's interesting, I got the idea originally from a collaboration I did with Willow Smith. Her manager was someone I met early on when I first moved to LA and he had this idea of doing a harp and guitar acoustic set with Willow.
To be honest, at that time, I had put my harp away and wasn't really pursuing music. So when he approached me with that offer I thought, "Well, I haven't touched my harp in years… but it's Willow, and I love Willow's music..." So I took the gig. That was when I realized how soulful the harp could sound, which was a really cool discovery for me.
After that gig, I started working on a few covers of my favorite songs and when the pandemic hit, and people were really active on social media, sort've looking for that escapism, those covers I did started going viral.
You mentioned that at the time when Willow's manager approached for a collaboration, you'd put away your harp and weren't really pursuing music. Can you talk about why that happened and what you were experiencing at that time?
After graduating college, I went to Carnegie Mellon University for music study, harp performance. The only thing that was presented to me as a musician there was orchestra, weddings, or private events as a harpist, and none of those really interested me. To be completely honest, I was just kind of over classical music by then, because it really wasn't the type of music I was listening to in my free time. And so, I shifted my focus onto acting and fashion, which heavily influenced my decision to move to LA. I moved here and I enrolled in acting schools, started a swimwear line, and had a fashion blog at the time. That all was really me just taking a couple years after college for some self-discovery.
So right now, it's really a full circle kind of moment for me. If you had told me this is what I'd be doing five years ago, I would never have believed it. The interesting and cool thing about dabbling into different things is that you can kind of let one path lead you to another path, and you just never know, maybe five paths later, that's the one that really sticks and you find your whole calling in. You just gotta have that patience for yourself and have fun with it too.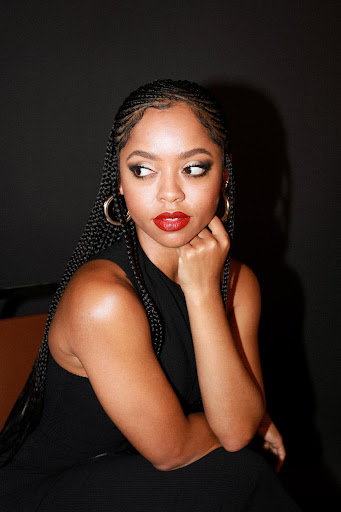 What have been some of your most exciting and triumphant moments in your musical journey so far?
There's been a few, it's so interesting because the thing about videos going viral, is that a lot of things happen really quickly. So in 2020, I did my first real televised performance for the Latin Grammys. I had a whole harp solo in the beginning that was just totally epic and life-changing in a lot of ways. I think I kind of lucked out with it being a pandemic in that we couldn't have the live audience, so it was pre-recorded. That lifted a lot of the pressure off of me having to get it perfect on the first try. And then I performed at the Grammys, which was epic as well.
Alicia Keys had shared two of my videos on social media and the first time she shared my video was so impactful for me. I remember the feeling very vividly and it was so exciting because she was definitely one of my biggest influences, she was my hero as a little girl, I would literally get my hair done to look like hers. So getting that recognition and validation from her was everything to me. More recently, I got to work with Usher, which was really another childhood dream come true.
You've talked about some of the artists who've influenced or inspired you in the past and present. Have you had any mentors that played a role in your journey pursuing music?
I actually haven't had many in-person mentors growing up. I came from a very predominantly white area, so there weren't many people that I felt I related to. That, and with just playing the harp in general, it's really tough to find a community. But I loved Alicia Keys, Sade, Lauren Hill, Erykah Badu, and of course Beyoncé. Those women were definitely my main inspirations, top female influences, and the only real source of representation I had growing up. I also loved Usher – the Confessions album changed my little teenage life.
You have done so many incredible covers of songs, how do your creative zones and inspirations differ when diving into and learning the covers versus creating your own music?
Great question. It's still a learning process for me. I'm nowhere near an expert in this yet, but what I've learned so far is that creating these covers has been very interesting. In a lot of these songs, you'll have the melody lines and then a piano or some other instrument that I can mimic, and in some, it's really important to also play the lead, the vocals. What was really a learning process for me when I was doing my album, was that with some songs, the vocals are just too fast or they don't really come across as peaceful on the harp. For example, I really wanted to do Good Days by SZA for the album, and the melody line is great. I did it for Instagram a while ago, but when it came down to doing the lead, it just sounded crazy on the harp.
So doing covers is a little bit more confined as far as my creativity goes, whereas creating my own songs feels so free. I just did a 30 minute meditation piece for the Calm app and I could just create anything I wanted, it didn't have to fully make sense. I could chop it up and find parts that I really liked and then glue it all together. That for me felt more expressive in a way that is more genuine to my soul and my spirit, whereas playing covers is a lot more nostalgic which is fun too, just in its own way.
Your music videos are so elegant and beautiful and have this almost divine essence to them. What is your inspiration for your videos and how do you come up with the concepts?
Lift Every Voice and Sing was a song that I always wanted to learn because it's so timeless and I can play it anywhere. When I was presented with the opportunity from Apple Music to do a song for their Juneteenth playlist I thought, "well, I'm already working on Lift Every Voice, and it would be the perfect song for this." I wish I could take credit for the creative direction for that video but Apple was on it! They had a whole creative team that put that video together, which honestly was refreshing to me since I'm used to doing all of my own branding and everything. In the end, I was very happy with how that turned out, it was really cool and creative and just an awesome experience.
For This Woman's Work, I have actually three music videos that are coming out. So that was the first of those. These were ideas that I came up with and designed around the album art. Since we were putting all this money into the cover, I figured, why not try to pull out some moving imagery as well, cut it together, and make some little visuals. It was really inspired by all of these beautiful paintings of bayous that I have. If you go to my page you can tell just how much I love nature, plants, and water, so I was really just brainstorming ways that I could put all that together and create a beautiful scene.
What would you say your "why" is as a musician, and does that connect at all to your "why" as an ambassador/mentor at Berklee City Music?
I definitely want to, first and foremost, bring more exposure to the harp. I get so many comments asking "what is this instrument", which is crazy to me that some people don't even know what a harp is called. The amazing thing about social media is that I have followers, not just nationwide, but from all over the world. I'm able to really bring attention to this instrument to people from first to third world countries, which is incredible.
In addition to that, I've also received a lot of feedback from the very beginning about how my music has brought calm and peace to my listeners. Especially during the pandemic, a lot of people were hurting in many different ways and I started realizing that I am able to really provide some light to people's darkness and the things that they're going through, which is so impactful for me. I feel so grateful every time I get a message from someone telling me how my music has helped them through a tragedy.
I started teaching lessons as well and the thing about the harp is that it's such an expensive instrument. So, in addition to bringing awareness to it, I want to find ways to make it more accessible and affordable to students from all different backgrounds. I believe that music is one of the greatest forms of therapy, so especially for minority students or students in underprivileged communities, I would love to find ways to give them access to learning an instrument.
As for Berklee City Music, I'm just really looking forward to whatever opportunities and relationships arise out of this program. I know that I definitely want to teach a masterclass at Berklee, which would be awesome, but really, it's just rewarding to be a part of something that promotes education, especially music education, which I didn't have much of growing up.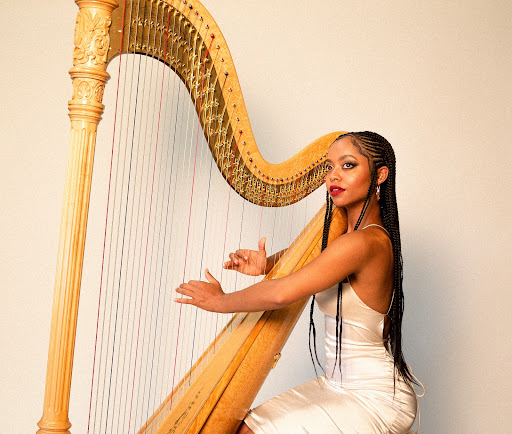 What advice would you like to give to young people pursuing their passion and a career in music?
I would definitely say for one, embody or take on whatever you want to become. Even if you don't consider yourself that yet, it's a game changer. When I first started out designing, diving into music, and exploring a bunch of different creative avenues, I had to start calling myself an artist. "I am an artist", and that within itself was a little micro confidence booster which really helps to solidify that direction for yourself.
As an artist, it's also important to understand that being a creative is so up and down, it can be very unstable terrain. You're going to have amazing days and bad days, amazing years and bad years. It takes a lot of patience and self-love to pursue something creative. Learning an instrument in particular is very challenging, it's like learning a new language. You have to be patient with yourself, and understand that it isn't going to be easy and that's okay. The more you try and the more you do it, the easier it becomes.
Something I tell all my students, and really my personal teaching method is that it's really important to play music that you like, and not try to force yourself to play music that you think should be played on this instrument. Part of being an artist is finding your own sound and finding what feels good for you to play. Even if it's nothing you would get on a stage and play for a hundred people, if it's important to you or it feels good to you and you're having fun, that's all that matters.
One cool thing I learned… and I wish I remembered which singer said this, but, as a musician, not everything you make is going to be a hit. In fact, most of what you make is not going to be a hit. But it is so, so important to keep creating. If you feel terrible, or you're having a bad day, or a slow day, whatever you're feeling, it's important to just keep creating. The more you create the better you're going to get. And sometimes as an artist, you have to get all those bad creations out to get to the good ones.
"That Feeling"
Creating this last album was my first time being in a studio, a real studio for myself, having my own session, and being able to just completely zone in and create something beautiful. I would find myself in a sort of flow state which I wouldn't even realize I'm in until I'm done, and then I'm like, whoa, I just played for like six straight hours and was completely in it, "tunnel vision."
That space is so, for the lack of a more creative word, it's just so purposeful, and it feels divine. This is the first time I can really say in my life I've felt something like that, like "oh yeah, this is what I'm supposed to be doing."
It's difficult for me to describe that feeling to somebody that hasn't experienced it yet, but it's almost like, when you're driving and then you get to your destination and you didn't even realize you just drove. It's kind of like that, you're just in it and it's just right.
"It's divine, you get carried away, you're just in a complete flow state, and it's a very euphoric kind of feeling."
What's Next?
Right now I'm back in the studio and working on an Apple Kids and Family lullaby album. So, it'll be very sweet for the babies. That's been just a beautiful experience so far, I've been having so much fun. I want to create my own project too, so that's something that'll definitely be coming up as well. I don't know how soon, but it's something that has to happen. I'm also a few songs into a Christmas album, and I don't know if that album will be out this year or next, but a harp Christmas Album will definitely be on the way too.
Stay tuned into Madison's latest covers, projects, and releases through her social media account and through the Berklee City Music website.