TEACHING ARTIST HIGHLIGHT
Professor Claire Lim
Recently, I had the pleasure of interviewing the extremely gifted Claire Marie Lim. A professor at Berklee College of Music in the Electronic Production and Design (EPD) department and a music technologist, Lim represents a distinct expansion in the Berklee City Music program. Through her contributions to the High School Academy Electronica Ensemble, Lim empowers a new class of students as music producers and sound designers. An artist and businesswoman in her own right, Claire teaches students a number of different skills that are essential to the modern-day music industry. Lim also collaborates with the Girls Rock Campaign and Beats by Girlz -- two powerhouse programs that inspire young women daily to continue chasing their dreams as musicians.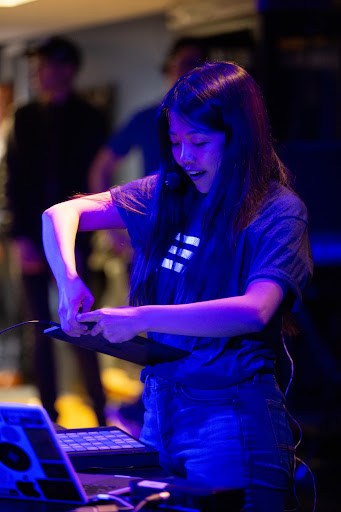 What's your name and where are you from?
My name is Claire Marie Lim. I currently live in Queens, New York. But all the way back when I was a child, I was born in Singapore. I lived there for a number of years and then I came over here for college quite a few years ago. I went to Berklee and after I graduated, I lived in Boston for a while and then I started working around New York. I've been based out of here ever since.
What's a music technologist and how does this title apply to your work?
So very broadly speaking, a lot of people who call themselves music technologists, or are music technologists; they work with anything that's related to the intersection of something that's creative. So it could be something like music, live music, or it could be sound design, it could be production, and also involving a lot of digital technology tools. So I do that, but it could also be something like live electronic performance, which is what I do with the City Music students.
Can you tell us about what your students learn in the Electronica Ensemble?
Yeah, absolutely. So obviously things have changed a little bit because of the COVID situation. Before that, a lot of the students who came in would have, say, some background as a vocalist or a bass player or a drummer. So they have a background in the normal, non-electronic musical instrument, or acoustic instrument rather. The trick with electronic performance is finding out how to bridge that element with some part of software. So, the main software that we use a lot for live electronic music is Ableton Live. A lot of the students, when they come into my classes or ensembles, especially if it's their first time with me, it's often the very first time that they're using Ableton Live. So, it's a tricky bit because we have to understand how software can end up augmenting whatever we do as musicians.
Tell me a little bit more about what you are passionate about musically, and do you incorporate those things into your curricula?
The work that I do with the City Music students, for example, we work a lot with audio recordings and we work even a lot with other kinds of free samples from other places. I think the main thing that I infuse into a lot of my curriculum and lessons is not so much materials themselves, but techniques. So it's like, even if you don't have the same, say, sample pack, you can still apply the same technique to a different sound. So, that's what we try to think a lot about when we're doing these things. Even if you don't have a specific drum sample, you can still find another one and you can still make something cool out of it. It's a little bit of that principle and that idea that I try to infuse a lot more rather than just the specific thing itself, like the specific sound file or the specific mini file and stuff like that.
What are some of your musical inspirations?
That's such a tough question. Musical inspiration. I feel, very honestly speaking, I think about this question a lot because sometimes I'm not so sure myself. But I think it's a little bit of a combination of almost all of the music that I've listened to. The more I think about it, the more I realize this, but off the top of my head, at least in electronic music stuff, a band that's been really influential on me, or a group rather, is Disclosure. They're an electronic duo, they're two brothers, they produce together and yeah, they do a lot of house music, garage. So, a lot of dance music for the most part. But with a lot of soulful touches, which I think appeal very much to me. They sample vocals sometimes from old soul records or they record people singing from a more R&B style, and they infuse that into the house music style, which is really awesome.
Tell me about the Girls Rock Campaign and Beats By Girlz?
I work with some organizations that focus a lot on helping women, or young girls really from underrepresented communities, have the opportunity to work with tech. And a lot of this is actually inspired by one of my own mentors, Erin Bera, who is amazing. Back when she was at Berklee, and even when she was living in New York a little bit too, and going back and forth, she founded a small organization, at first it was small, called Beats By Girlz, that would focus on sharing a lot of technology tools with girls. And I think it started in... It did start in New York, but slowly she started connecting with other women, and other female-identifying people, in other parts of the country and other parts of the world.
Follow along with us this year to learn more about Claire's contributions to the Berklee City Music Electronica Ensemble and tune into their livestream performance at the 2021 HSA Winter Showcase on Saturday, December 18 at 3:30p.m. EST here!