Featuring: Leo Blanco, Professor at Berklee College of Music
This lesson will focus on developing a repertoire library. Your repertoire is a list of songs that you know pretty well and that you feel comfortable playing at any time, whether it's an onstage performance or recorded session. You will also have an opportunity to jam using play-along tools, such as the PULSE Jam Room and Casio Downloads to develop your performance skills.
Each mini-lesson is built upon the content of each video. Specific instructions are provided on how to work with students in class and assessments for each lesson map directly to each lesson's stated outcomes. Access free resources to enhance this lesson by joining Berklee PULSE.
Outcomes:
Explain the importance of selecting appropriate repertoire and incorporating it into a practice section

Select appropriate pieces to work on during the repertoire section of a practice session

Demonstrate practice readiness by choosing a play-along to be used in practice session

Complete a plan for how you will use these play-alongs in your daily practice in the coming week
Materials:
Computer with a browser such as Chrome, Safari or Firefox, to access the Berklee PULSE website

Projector, PA system

PULSE Practice Journal

(pdf)
INSTRUCTIONAL ACTIVITY IDEAS
Exposition of Material
1. Teacher provides a very brief introduction (3 minutes) on the importance of choosing appropriate repertoire to develop your skills. Teacher also defines what a play-along is (because it is not defined in the video itself, as currently scripted).
2. Teacher shows video.
Identifying Key Concepts and Terms
3. After the video, provide the students with Video 3: Assessment Video Key Points Scavenger Hunt that helps them find the key points in the video. Go over each of the questions out loud in class.
4. Show the video a second time. This time, students watch the video and take notes on their handout.
5. Teacher provides a transcript of the video and gives students 5-7 minutes to complete the handout, or discusses each question on the handout and students can write down the answers during discussion.
6. Students submit the handout/assessment.
Note: It is ok that students had help with this; it's still an assessment. Depending on teaching style, teacher may not choose to give out the transcript or discuss answers until students have completed the form.
Planning For Play-Along In Practice
7. Identify play-along tracks that will help you meet your practice goals. You can find materials online at the PULSE Notation mixer available in the PULSE Jam Room. Also, try an online search using terms such as "play-along tracks," and you'll find a long list of results. Many instrument makers provide play-along tracks on their websites. Check out the Casio Downloads site.
8. Share these with your teacher for input and approval.
9. Decide when and how you will use these song tracks in your practice session, and then write down the names and locations of these tracks in the notes section for each day in your journal.
10. Submit your plan to your teacher.
Lesson Closing
Submit the "Video 3: Assessment Video Key Points Scavenger Hunt"

Submit plan for play-alongs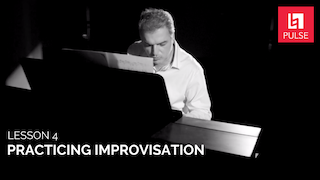 Lesson 4
Practicing Improvisation
Improvisation is the art of composing instantaneously based on the melody, harmony, and structure of a song. Learn how to describe and understand improvisation's role and develop strategies to improve your techniques.