Featuring: Leo Blanco, Professor at Berklee College of Music
As a musician, you will discover the best way to progress musically is though goal oriented practice sessions. In this video you will explore the benefits of practicing versus just playing for fun, and how to organize your time using a journal.
Each mini-lesson is built upon the content of each video. Specific instructions are provided on how to work with students in class and assessments for each lesson map directly to each lesson's stated outcomes. Access free resources to enhance this lesson by joining Berklee PULSE.
Outcomes:
Describe the benefits of practice and how it differs from jamming and/or running through repertoire

Identify the elements of a successful practice session

Plan an effective practice routine
Materials:
Computer with a browser such as Chrome, Safari or Firefox, to access the Berklee PULSE website

Projector, PA system

PULSE Practice Journal

(pdf)
INSTRUCTIONAL ACTIVITY IDEAS
Exposition of Material
1. Teacher provides a very brief introduction (3 minutes) on the importance of practice to developing your skills as a musician. "The following set of videos we are going to watch provide a general plan so that you understand, right from the beginning, what it takes to get from where you are now… to the stage!..."
2. Teacher shows video.
Identifying Key Concepts and Terms
3. After the video, provide the students with a Video 1: Assessment Video Key Points Scavenger Hunt handout that helps them find the key points in the video. Go over each of the questions out loud in class.
4. Show the video a second time. This time, students watch the video and take notes on their handout.
5. Teacher then provides a transcript of the video and gives students 5-7 minutes to complete the handout, or discusses each question on the handout and students can write down the answers during discussion.
6. Students submit the handout/assessment.
Note: It is ok that students had help with this; it's still an assessment. Depending on teaching style, teacher may not choose to give out the transcript or discuss answers until students have completed the form.
Establishing a Practice Plan
7. Create a practice plan.
The video speaker talked a lot about setting goals. Know that your goals will expand and get more specific as you get more experienced as a musician. For now, your goal is very clear: You want to establish a routine that will make it possible for you to practice every day, and document your progress using your practice journal. To do this, you need to think ahead about a few things. Write them down:
Where will I practice?

What time of day will I practice?

How long will I practice each day?

What are likely to be my biggest distractions?

How will I avoid them?

What is my short-term goal (for each practice session)?

What is my long-term goal for this week?
8. Download the PULSE Practice Journal. Review it and write down a long-term goal for the week in the top grey box under "WEEK#". Next to each day, write down a short-term goal for that day that will help you achieve the long-term week's goal.
Lesson Closing
Submit the "Video 1: Assessment Video Key Points Scavenger Hunt"

Submit your practice plan and short- and long-term goals, as described above.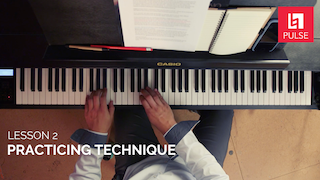 Lesson 2
Practicing Technique
Discover the secrets to an effective practice session by mapping out a clear direction and warming up your creativity.